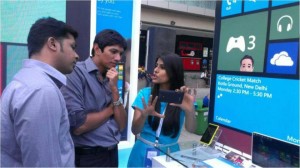 The overall Mobile smartphone handset market seems to be fairly distributed in terms of market shares with Android sweeping the non-Apple market, can the advent of Windows Phone 8 could impact market shares and is something worth watching out for in 2013. One of the reasons Windows Phone 8 is getting, and will continue to get, a lot of attention from operators as they want an alternative to the Apple and Android space where they can get a better revenue stream (or the share thereof) from their customers. Microsoft without an element of doubt is providing a lot of marketing support, which also helps. In addition, potential for Windows Phone 8, alongside Xbox platform, to deliver the full triple/quadruple play services is an added attraction for the operators.
Given Android's out-sized market share 72%, success of Windows Phone 8 is likely to impact this segment more than it would impact the Apple iOS eco-system, though at the high-end, attractive new phones could impact Apple somewhat too. Within Android, Samsung is the dominant player, with HTC, LGE, ZTE and Huawei all fighting for the second spot. World's Largest SmartPhone seller Samsung, is hedging its risk by focusing strongly on WP8 in addition to Android and Tizen Mobile OS and wants to remains the key play here in 2013.
At this stage there are only three main players in the WP8 space, with Nokia and HTC being the other two. Given the low share for these two companies in the current smartphones space, if WP8 were to gain share at the expense of other OS, these two companies should be able to garner a higher market share of the overall smartphone market, assuming the WP8 markets gets evenly split.