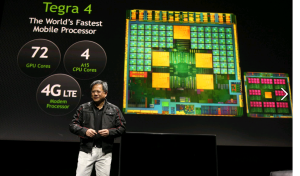 Silicon valley Innovator Nvidia announced the next-gen mobile SoC, Tegra 4, World's Fastest Mobile SmartPhone Processor. Built on 28nm process, Tegra 4 features quad ARM15 CPU cores with a similar 4+1 architecture as in Tegra 3. It packs 72 GPU cores and has 5-6 times more graphics processing than Tegra 3. Power consumption of Tegra 4 is 45% better than Tegra 3 for most use cases. Based on benchmark from Nvidia, Tegra 4 runs faster than today's fastest apps processors from Apple, Samsung, Qualcomm and Texas Instruments.
Nvidia is taking Gaming to the cloud. Nvidia's GRID cloud gaming architecture allows users to play graphics intensive 3D games without the need of local GPUs. The company demoed a rack of 20 GRID servers that contains a total of 240 GPUs, with graphics performance similar to 700 Microsoft Xbox. GRID is currently in trial phase, targeting MSOs around the world.
Nvidia's Project Shield leverages the compute power of Tegra 4, the Android-based Shield acts as both a controller and a portable game console. While success of gaming consoles is usually driven by the available titles, one should note that Nvidia has extensive familiarity with this space. The addressable market for such console could be in mid-single digit millions per year.
Nvidia launched a new LTE-capable soft modem, i500. The modem has 8 processor cores running as fast as 1.2 trillion operations per second. The programmable cores allow the modem to be 40% less in die size as compared to a conventional LTE modems. The device is currently sampling to customers. Nvidia may choose to launch an SoC with integrated modem later this year to address the mid-range smartphone opportunity.
Tegra 4 will definitely extend Nvidia's leadership in the tablet apps processor market this year.