Incumbent Telecom Operators who won 3G spectrum have begun to roll out 3G services across major towns and cities. Tata Docomo and Reliance Communications (RCOM) were the first off the mark, followed by Bharti Airtel which has launched services in 16 cities so far while Idea Cellular rolled out 3G in 10 cities last week.
A quick look at the pricing plan indicates 2GB data plan as the current standard and costs the same across all the players, Tata DoCoMo is the cheapest provider. Also Bharti Airtel /Idea Cellular /Reliance communications have priced the data plans less than 2GB at a significant premium to the 2GB plan. Airtel has steep charges for usage over 2 GB of Data. The following Chart shows Comparison of 3G Data Plan pricing in Mumbai Circle and is almost the same by respective operators in the rest of the country whevere services are rolled out.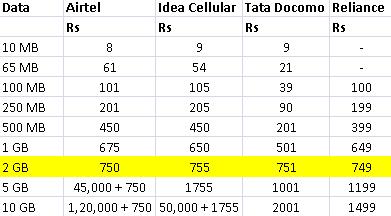 Please note that if you subscribe to some plan and exceed the Data limit earmarked in that plan, here is the applicable rate on data exceeded
Airtel – Rs 15 / MB
Idea Cellular – Rs 10 / MB
Tata DoCoMo – Rs 10 / MB
Reliance Communications – Rs 10 / MB
In the above chart, for Bharti Airtel & Idea, 5Gb and 10GB Plan costs are calculated assuming that subscriber is enrolled in 2Gb Rs 750 Plan and has exceeded the usage. Soon you will read in newspapers that subscriber gets 1 Lakh Rupee Bill 🙂
While it is still early days for 3G, we believe that telcos are unlikely to turn aggressive on pricing, unless there are clear signs of a pick-up in adoption, given the steep acquisition cost of 3G and high gearing across telcos.