The browser war intensified today with the launch of Chrome from Google Labs. Just like how Microsoft moved from Operating system to Office Tools to Development Tools, Google is also moving in the same direction with its offerings in the Internet space.
Engineers at Google were spending lot of time online and browser was the only Windows client they were using for every task. Dissatisfied by the poor and buggy performance of Microsoft Internet Explorer, Google started supporting Mozilla FireFox. However, these high profile engineers always wanted to create the most optimized product for best performance and here is a beta of their innovation – Google Chrome Browser.
FireFox Vs Safari Vs Chrome:
IE has been continuously losing market share to its rivals. In March-2007, 77.6% of Broadband India readers were on IE which since then has dropped to 67.34% as on today [Average of Aug-2008] FireFox is the biggest gainer at the cost of IE.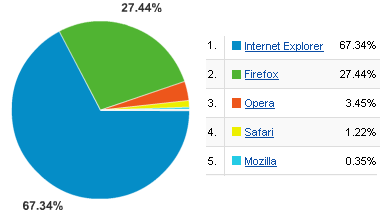 Google is financially backing the FireFox team and has also open sourced its own browser – Chrome, to promote severe competition, so that consumer's get a worldclass product on their desktop. Do let us know your views about Chrome.