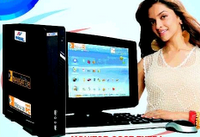 Bangalore is buzz with the BSNL – Novatium's Net PC. So what exactly is the deal ? Are they giving away a PC at just Rs 2,999 ?
We spoke to Novatium and here is how the deal is structured. If you are a new BSNL subscriber then you can avail this offer by paying Rs 2,999, where you will get the Net PC Box which is very similar to your Cable TV or Dish TV Setup Box. Net PC is a thin client to which you can connect your peripheral devices like Keyboard, Mouse, Monitor, USB Storage Device, connecting ports etc. [Monitor cost is additional] If you already have broadband connection say Airtel Broadband, then you can BUY the Novatium Net PC Client for Rs 3,999.
There is no hard disk on this client so you can't store the documents, but you can use the USB. However, you will have access to common PC applications like Documents, Spreadsheets etc Novatium offers online storage services as well.
Availability:
BSNL Circle in Bangalore and Chennai + MTNL in Delhi and Mumbai.
Novatium Net PC + BSNL Plans and Payment:
BSNL is offering a flat 10% off on any home broadband plans you choose. Say if you choose Rs 750 256 Kbps unlimited broadband plan, then you will pay Rs 675 + taxes. Novatium gets a cut directly from BSNL and it is around Rs 175 / month. You don't worry about this, just keep paying your monthly BSNL Bills.
There is no lock-in period or contract. However, it is recommended that you don't surrender the Net PC within 3 months, if you do so you will be charged Rs 1,000 before buying back. If you surrender after 3 months, then Rs 200 / month will be dedcuted at the time of BUY Back and after 15 months there won't be any BUY Back.
Novatium Net PC Demo:
The following video on YouTube shows a demo of the same.

If you have any questions or comments, please feel free to ask.