Now that 3G Auctions are coming to an end, much has been talked about VAS and Freeing Spectrum but we would like to explain Data / Internet Broadband services over 3G and the current industry standards. Globally, 3G (WCDMA+HSPA) accounts for ~9% of subscriber base v/s nil in India currently. In the GSM family of technologies (GSM+WCDMA+HSPA), 3G subscriber base constitutes ~10% of total and continues to grow on increasing rollouts. The following chart explains the standards,



REL 99 WCDMA is applicable in the current context of India.
Additionally, 3G technology will provide high speed mobility and ability to offer mobile broadband services. The following chart shows the complete evolution of these technologies.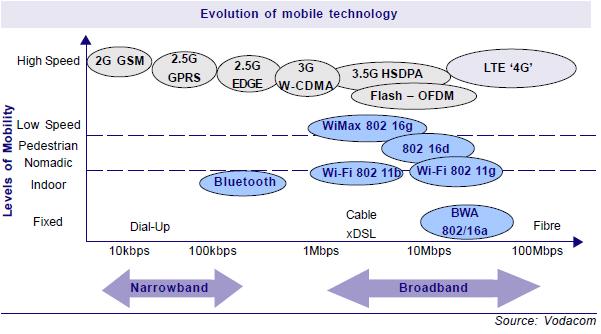 Currently in India we are being served with 2.5G GPRS / EDGE which is under Narrowband and not broadband. However, WCDMA and WiMax will be Mobile Broadband Services and Indians can increasingly go broadband over Mobile in the next 12 months. Questions and Comments are welcome.