RIM, has launched Blackberry Pearl 8100 in India. It is for businessmen and employees on the move where e-mail is a part of their nervous system. The Pearl is different from its previous peers because this has camera, Mp3 player and all the features required to make it a truly upscale mobile phone.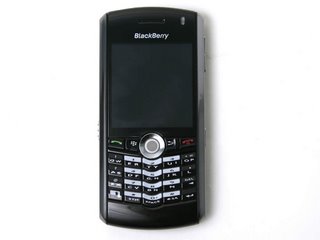 It has trackball at the center. A QWERTY Keypad. Slightly thicker than a Moto RAZR. It has the same UI as its past peers. E-mail and Web is what the pearl is meant for. It can sync with Microsoft Exchange and Lotus. It comes bundled with Google Talk and Yahoo! messenger.
You asked for a Camera and you got it. It has 1.3 megapixel cam. The music player on the Pearl is capable of MP3 and AAC playback with ID3 tags support. Pearl doesn't have FM capability. Pearl 8100 is a tri-band GSM/GPRS/EDGE phone. It has Bluetooth and USB interface. Blackberry pearl is priced at Rs 24,900 in India.
Tags: Mobile India, Blackberry , Blackberry Pearl