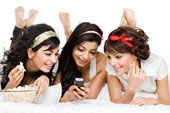 Withing the next 48 hours we will know who will be the 3G Operator in each Telecom Circle of India. We quickly surveyed the market on the availability of 3G capable / enabled Handsets for the masses of Indian population and we found 5 of them varying in cost from Rs 4,500 to Rs 6,900. Kindly note, to make Video Calls, you need the Camera at the Front and all those Handsets were quite expensive with starting from Rs 10,000.
However, the following cell phone handsets are 3G enabled i.e you can make use of super-fast data connectivity for VAS and other applications loaded on to it.
Nokai 2730 – Quadband – Rs 4,650
Samsung C5130 – Quadband -Rs 5,200
Sony Ericsson Naite – Quadband -Rs 6,700
Samsung L700 Quadband -Rs 6,700
Nokia 5233 Quadband – Rs 7,500
Nokai N70 of N Series ~ Rs 8,000 is also 3g Enabled.
As operators start upgrading their networks to 3G, high end 3G handset prices are expected to fall and become more affordable.