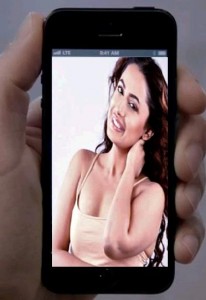 Apple Inc's iPhone is pretty much as expected, but with a few enhanced functions. Apple fans have been waiting for the iPhone 5 announcement. From the initial positive feedback from the Technology Blogs following the product launch, we think iPhone 5 should help boost a major upgrade cycle over the next 3- 4 quarters. We hear from Apple that the Pre-Order for iPhone 5 is Sold Out though they didn't mention the number of units.
Comparison of iPhone 5 with iPhone 4S[Previous Version]
It's 7.6 mm thin and it weighs only 112 grams, 18% thinner and 20% lighter than the 4S. It's bigger, but the same width as iPhone 4S. Users can still type on the keyboard with one hand. The 4" screen boasts a 16:9 aspect ratio. The additional screen space provides enough room for a fifth row of icons on the home screen. Also, it's at 326 pixels per inch, with 18% more pixels for 1136×640 resolutions. Apple changed the connector design for iPhone 5, called "Lightning". It's 80% smaller than the connectors for the iPhone 4 or iPhone 4S. You can see the comparison of iPhone 4 vs iPhone 4S / 4 at a Glance.
Other Features of iPhone 5
iPhone 5 uses the A6 processor (2x faster CPU and graphics) and a new battery design that exceeds the battery life of iPhone 4S. Faster connection speed featuring support for all kinds of 3G radios, as well as support for LTE, along with two faster flavors of HSPA+. It also supports dual-band 802.11 wireless connectivity, which accelerates WiFi connection experience to 150 Mbps.
Apple catches Nokia's Strength on Camera – A better speaker and mic, and an eight megapixel camera with backside illumination, f/2.4 aperture, five element lens, 1080p video, updated FaceTime HD, Hybrid IR filter, a sapphire crystal lens cover, and supporting panorama mode. iPhone 5 upgrades its front camera from VGA to HD, in line with market expectations. Apple emphasized the improved audio experience in iPhone 5: 1) upgrade of speakers/receivers and 2) increasing numbers of microphones.
You can view how the iPhone 5 compares with Samsung Galaxy S3 and Nokia Lumia; the trio have a combined Global SmartPhone market share of over 56% and growing.