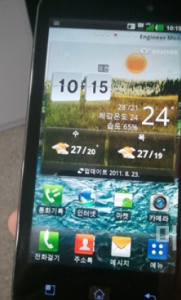 LG group Company LG telecom [LG U+] today released Optimus LTE phone for its customers with a 4.5inch IPS display, 1.5GHz dual core processor and has an 8m pixel camera. The OS is Android Gingerbread (2.3.5). This phone looks even better than we anticipated and we believe it shows how committed the Korean handset makers are to LTE.
Samsung is not too far behind in the race with a competing model for LTE Network – Samsung Celox – 4.5inch WVGA (800*480) Super-AMOLED Plus display, be on a Android 2.3 (Gingerbread) platform, and have 1.5GHz dual core and 16GB memory.
LG U+ will cover the entire Korean region by end of 2012 with LTE Network and is focused only on pushing this 4G technology. The LTE pricing plan has not been announced yet. Uncertainties remain, but we are positive that the entry level and overall pricing to be higher vs 3G, as it is a premium service. Unfortunately, we do not expect any telco to introduce unlimited data plan for LTE.
In India, Reliance Industries has the spectrum for launch of LTE but it is still negotiating to get the back-end fiber & tower infrastructure to light the network. 4G is not too behind in India 🙂