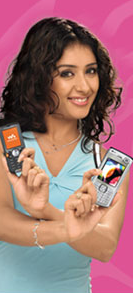 You asked for it, and you got it. Market share of cell phone handset manufacturers in India. Here is the latest statistics.
Nokia: As expected with rocking sales day after day, year after year, can you expect them to be slackers ? No Way. Their marketshare was whopping 73% in Sept-05 and at the end of Aug-06 it had increased to 77%. Check out the latest models of Nokia Phones.
Motorola: The American giant has woken and is trying to catch Nokia in India. Indians love Nokia so much that it may just be a Mission Impossible for Motorola. Motorola has grown from 2% market share in 2005 to 10% in Aug-06. Motorola Phone Models and Prices.
Sony-Ericsson: What went wrong is anybodies guess. It lost market share in the past year from 8% to 5% at the end of Aug-06. Sony Ericsson Cell Phones in India.
Samsung: Another loser in the cell phone handset war in India. Samsung lost 5% market from 9% to 4% at the end of Aug-06. Samsung Mobile Retail Prices.
Others: Other lesser mortals like LG, Panasonic, Siemens and Philips together have a mere 4% market in India.
Tags: Mobile India, Mobile Handset Market India, Nokia , Motorola