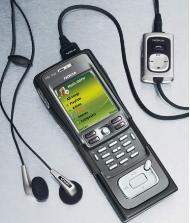 Mobile India had an exclusive coverage on Nokia N Series Music edition in October. We had reported about the 8GB internal HDD on N91. These devices Rock!!!
The Nokia NSeries is the convergnce of phone with your music player. Nokia is a big pusher of Symbian phones and Symbian last month announced that 100 Million phones are out in the market running on Symbian platform. If you are a company like Apple or Microsoft just concentrating on music player, time to short both AAPL and MSFT.
Our insiders have tipped that Nokia N97 maybe a direct hit on iPod and Zune. Unconfirmed reports say that N97 is expected to have a 20GB HDD. Time to transfer your songs to N97 and push your iPod on eBay 🙂
Some of the other promising features of N97 are, 3-inch QVGA (240×320) display, a 5 megapixel digital camera with flash, 2.4x optical zoom and 20x digital zoom, video recording at 15 fps, an FM radio tuner.
Tags: Mobile India, Nokia NSeries , iPod,
Zune