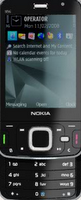 Nokia has timed it right in India to stop its loyal customers from migrating to the iPhone Platform, which is likelyto be launched by Airtel and Vodafone anytime in the next few days. Nokia has launched the N96 phone – another one in the N Series. [This is something different from the rest, and is moving towards iPhone in features [16Gig Flash + Internet Browsing Features]
Features of Nokia N96:
A 3G phone automatically switching between bands[ WCDMA2100/900 (HSDPA) / EGSM900, GSM850/1800/1900 MHz (EGPRS)] and modes. Weighs 125 gm, 103 mm long, 55 m in width [somewhat smaller for entertainment freaks] and has a depth of 20mm.
The phone has 16GB of internal flash memory plus slots for your microSD Card. Don't worry, the phone is not supposed to hang up or become slow once you have filled that space because it is engineered to use the 128MB RAM, 256MB system memory (operating system plus dynamic user data area) It has support for Stereo FM, Visual and Internet Radio playing all the popular music formats except iTunes.
N96 is equipped to handle the following data transfers,
WCDMA HSDPA 900/2100 MHz with simultaneous voice and packet data (PS max speed DL/UL= 3.6Mbps/384kbps, CS max speed 64kbps)
Dual Transfer Mode (DTM) support for simultaneous voice and packet data connection in GSM/EDGE networks. Simple class A, multi slot class 11, max speed DL/UL: 177.6/118.4kbps
EGPRS class B, multi slot class 32, max speed DL/UL= 296/177.6kbps
GPRS class B, multi slot class 32, max speed DL/UL= 107/64.2kbps
N96 supports the following Video Formats,
MPEG-4 Part 2 (H.263/SP), up to VGA 30 fps, Windows Media Video (WMV9), RealVideo QCIF, Flash Video in browser and DRM support: OMA DRM 1, OMA DRM 2, WM DRM
The most exciting feature of N96 is support for Live TV,
DVB-H based mobile TV with internal antenna
DVB-H Class C, 470-750 MHz
N96 also supports GPS and e-mail and messaging. It can connect via WLAN 802.11 b/g. It also has USB and Bluetooth interfaces.
Nokia N96 phone has to be pre-booked online at cost of Rs 4,000.