We have successfully tested Mobile Payment service from Paymate thus paving way for m-Commerce in India. It was an unbelievable experience, so seamless with all the gateways involved, we are inclined to rate it as "A" grade service.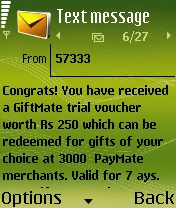 I was casually going through one of the blogs and I bumped into this banner of Giftmate [A Subsidiary of Paymate] which said "Get a Free Gift Voucher worth Rs 250" Clicking on it, I was taken to a short survey on Mobile Payment system. After the survey, bingo! I received the SMS that you can all see to your left.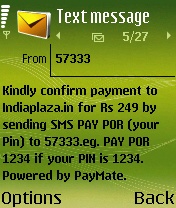 I was a little bit over excited about this payment platform and decided to give it a shot. Without even reading the terms and conditions about the Rs 250 gift voucher being really FREE, I browsed through the list of merchants who would accept Paymate for payments and within the next 3 minutes I was ready to check out. When I confirmed Paymate on merchant site [Indiaplaza] and entered my Mobile number I got an SMS to confirm my payment as shown on your right. Jeez!!! I am a slow typer, so it took me around 90 seconds to confirm via SMS and when I did, the payment was all done 🙂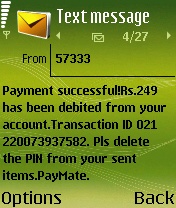 I got the SMS [see on your left] which confirms that the payment using my mobile was successful and also lists the transaction id.
You can add more money to your mobile using a Credit Card or Bank account. They are also expanding the number of banks through which you can add money as well as the list of merchants accepting Paymate.
Now as a Bonanza for our readers in India, you can get FREE Gift Voucher to Shop 🙂 Hurry the offer may end any minute [Yes I really mean any minute]