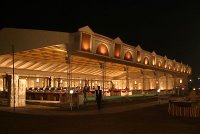 Reliance Communications Limited, will turn the switch on for mobile video streaming for the first time in India on Thursday when Microsoft CEO, Steve Ballmer will deliver his keynote in India.
Mobile video streaming is similar to a webcast and is useful to provide online video of popular event footage to millions of viewers on a mobile phone.
Currently, 50% of Reliance India Mobile handsets can support video and audio streaming. I am sure, Wedding and Birthdays will be the most streamed occasions.
I am still not very clear from this article how can I subscribe to a stream that is being done by my friend in Mumbai ? Has he got to inform me ? Or will I be able to search for available streams ?
Tags: Mobile India, Reliance India Mobile , Mobile Video , Mobile Stream