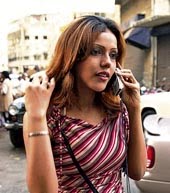 In line with the management's statement during the last quarter's conference call, Reliance Communication is the company that has pioneered the launch of most innovative tariffs, the Wireless division just minutes ago informed about another round of disruptive tariff applicable across the board – CDMA, GSM and Pre / Post paid customers.
Simply Reliance Tariff Plan:
Applicable to both GSM / CDMA Customers – Existing or New
Existing Pre-paid customers have to do a one time recharge of Rs 48 to enjoy this tariff for lifetime
Existing Post-Paid customers can migrate to this plan by paying a monthly rental of Rs 99 [You will get Rs 99 worth of FREE SMS Local / STD]
Tariffs under Simply Reliance is 50 paise / minute for Local or STD Calls to any mobile or Landline. Aditionally, SMS will also cost 50 paise
Only Airtel and Vodafone are the two operators who are not offering any such competitive offers to their customers.
Update @ 18:45 HRS- Simply Reliance Tariff Plan 399:
Applicable to Post-Paid Users at monthly rental of Rs 399
Rs 399 worth of Local Calling FREE On-Net of Off-Net
Rs 399 worth SMS also FREE
All Local / STD On-Net or Off-Net Calls at Rs 50 Paise / Minute
In Roaming – Tariff Remains the Same – 50 Ps / Minute Incoming or Outgoing and SMS will cost 50 Paise