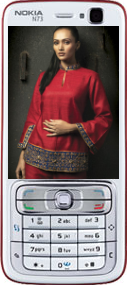 Tanla Solutions has informed us that Tanla Mobile, a subsidiary of the Tanla Mobile has published a Mobile Marketing and Advertising guide in United Kingdom. The release is as follows,
The Tanla guide aims to offer step-by-step guidance to agencies and brands about how to design, launch and manage mobile marketing campaigns. Edited by mobile marketing guru Helen Keegan and drawing on the expertise of senior figures at 02, Vodafone, Admob and emerging media platforms, the Tanla Mobile marketing and advertising guide identifies key areas that must be addressed for the industry to thrive. It promises to be essential reading for all marketing and mobile executives.

The guide covers every aspect of mobile's place in the marketing mix. From campaign mechanisms to common challenges, from leveraging user-generated content to exploiting mobile TV, it contains everything mobile executives need to know about this rapidly evolving market.
The Tanla stock was down 8% on NSE at Rs 549, mostly in-line with the fall in Indian indices.