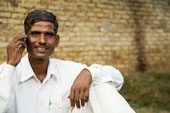 The Indian Cellular Association – ICA has an excellent pitch to use the surplus funds lying in the Telecom Universal Services Obligations – USO pool account.
ICA has pitched to bridge the digital divide by providing FREE Cellphone handsets to the folks in rural India below poverty line where it is still a dream to afford the basic handset. Additionally, ICA has pitched for the following,
50 mn handsets with 100 free calls per month – basically enables them to cut on traveling which costs them a lot more
Mobile should be equipped with AM radio to enable them to listen to local language content
Fund VAS service providers to develop content for Rural India and then distributed at low cost or FREE.
Establish Services and Repair centers in rural areas
Tax conession on VAT in rural areas
ICA estimates the cost of this entire operation to be Rs 5,000 cr [$1 bn]. We think this is an excellent pitch to reach out to the BPL families. Also, as telecom networks penetrate deeper into rural India, it is essential that other parts of the mobile ecosystem reach there to make it a success. Do you have any other views to support our rural folks ?