MJicrosoft is running behind in the Fast Growing Mobile Handset market as well. However, the company has launched Windows Mobile 6.5, which will deliver new customer experiences through an improved, easy-to-use and customizable user interface and an enhanced browsing experience.

Handsets Bundled with Windows Mobile – HTC Touch 2 Acer Be Touch E100, Acer Be Touch E101, Acer Neo Touch S200 and Acer Be Touch E200. Further, several handsets running Windows Mobile 6.1, including HTC Diamond 2, HTC Touch Pro 2, LG Eigen and Samsung Omnia Pro.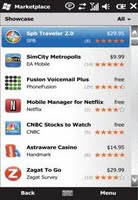 Window My Phone – Free 200 MB Online Storage and Backup lets you have peace of mind. No longer do you need to worry about losing precious phone data like contacts, texts, pictures & music…even when you lose or damage your handset.
Windows Apps Marketplace – you can have the best of work and play right at your finger tips! Easily find and download for free or purchase high quality mobile applications that not only help access important line of business applications for work, but also popular mobile applications for play such as Facebook, MySpace, Netflix, Twikini, WunderRadio and, ZAGAT, as well as leading game titles including Guitar Hero World Tour, Sudoku.
Browsing – The new Windows Phones offer you desktop like browsing ability on your phone with a completely redesigned Windows Internet Explorer mobile browser.
Office on Mobile – Microsoft Office Mobile on your Windows Mobile 6.5 lets you open and edit Word, Excel and PowerPoint documents right from your phone with the familiar Outlook features and software you know from your PC.
Starting at Rs. 11,000, the new Windows Phones are available across a range of styles and prices. ouch devices to Touch with QWERTY or Non- Touch with QWERTY, slide, slide-out QWERTY etc. to meet your need.
You can check out their Windows Mobile Video made for India here.