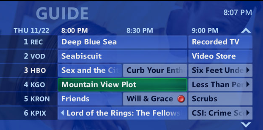 After MTNL's IPTV launch, BSNL is planning to launch IPTV services in the country starting from Pune within the next 3 months.
I don't understand the logic behind IPTV deployment in India where broadband penetration is pathetic and pay additional monthly fees of Rs500 for IPTV service the broadband fees of Rs999 per month apart.
IPTV deployment in the west makes sense where companies like Verizon have deployed Fibre till home and the packets are streamed at 6-10MBPS which is so essential for Quality of Picture and Sound. In India, 256KBPs is broadband and what quality can you expect ? Instead why shouldn't I go for DishTV which costs mere Rs300 per Month and is also offering all the services like Video on Demand and Music channels with fantastic quality.
BSNL should first provide good quality broadband [atleast 1 MPBS] and then think of killer applications. Just don't take customers for a ride. If you have any experience with IPTV drop a comment here.
Tags: Telecom India, IPTV India, Broadband India, Dish TV