Naukri.com saw revenue growth of 5% YoY in Q3 FY09, while Quadrangle posted a 48% YoY dip. Naukri brings in over 85% of the revenues for Infoedge India Ltd. The company now has ~17 mn resumes in database [how many obsolete, not disclosed] The number of customers [potential employers] has gone down from 18,600 in Q2 to 17,200 in Q3.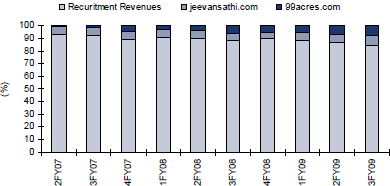 JeevanSathi continued its growth but in the slowest ever pace and now has 2.68 mn profiles. With the fall in Indian Real Estate market, 99Acres saw a dip in the number of paid listings from 30,000 to 24,300. Jeevansaathi.com and 99acres.com posted losses of Rs 3mn and Rs17mn respectively. We believe the losses would have been higher, but for lower advertisement expenses. Matrimonial website, jeevansaathi, would incur higher costs on its new offline centres. Currently, it has 10 offline centres and the company plans to open 5 more in next few months.
The management also indicated plans to launch a new recruitment portal focused on freshers named firstnaukri.com in the next few days.
InfoEdge is expected to report an EPS of Rs 21 for FY09. Does InfoEdge command valuations at a P/E of over 20 when Google, the Extreme innovator of the Web is traded at 15 ?