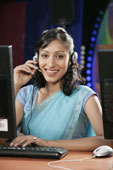 A year after BSNL introduced the concept of Net PC (Thin Client) slashing the entry cost for going online, Airtel Broadband is also offering Net PC. To start with Airtel is offering this service in Chennai circle and will later expand to other cities.
What is Net PC ?
It is a Thin Client which has ready ports on it where you can plug-in your Keyboard, Mouse, Monitor and External Storage Device [ Pen Drive / USB Harddrive]. It comes loaded with online version of Microsoft Office Productivity Suite [MS Word, Excel, PowerPoint] and other essential Software like Adobe Reader and of course the browser. Essentially, on Net PC, you get Software as a Service on demand.
Who is Net PC for and What Difference does it Make ?
Well Net PC is for someone who can't afford to BUY a PC. We have compared the prices and this will give you substantially low entry cost to stay connected in the wired world. You can store your documents on the external drive and access from the same.
Details of Airtel Net PC Plan
Airtel Net PC Plus Plan A: One time upfront cost of Rs 4999/- includes Nova Navigator console, USB keyboard and a mouse [Customer has to BUY the Monitor on his own]
Airtel Net PC Plus B: One time upfront cost of Rs 8999/- includes Nova Navigator console, USB keyboard and a mouse and 15 inch LCD monitor
Airtel Net PC Plus C: One time upfront cost of Rs 10,999/- includes Nova Navigator console, USB keyboard and a mouse, 15 inch LCD monitor and 169 GB Hard disk drive
Total Cost of Airtel Net PC To Consumer:
Depending on which plan you choose, you need to pay that amount upfront. Additionally, you will have monthly charges for Airtel Broadband depending on the chosen Plan which start from Rs 699 / Month [choose depending on your usage]
What is the Cash Back Offer of Rs 4,500 ?
If you continue to use Airtel Net PC with Airtel broadband for 2 years, then at the end of 2 years you will be given a cash-back of Rs 4,500.
Questions to Ask before Signing up for Airtel Net PC Internet Deal:
Warranty of Hardware ?
Support and Service when the Device is not working ?
Cash-back at the end of 24 months is given as a Cheque/DD or credit to your Airtel Broadband Account ?
1 Month Trial Offer, what are the costs involved and when the Money paid upfront will be refunded ?
To subscribe Call 1800 103 0121 from any Airtel Landline or SMS net pc to 5363. Do let us know your reviews and if you have any complaints we will try to get them resolved for you.