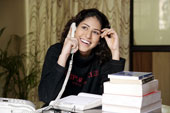 With the penetration of Wireless services in India, it seems that Landlines have taken a backseat and in some states witnessing negative growth which is not too good for the health of an Integrated Telco like Bharti Airtel.
We all know that Tata Communications and Reliance Communications Wireless Broadband has been a failure in India. Fiexedline phones running over a copper network, bring super fast DSL Internet to your doorstep which is the need of the hour. Facing resistance from BSNL to open its copper cable network, Bharti Airtel CEO has now asked the Government for tax concessions. Mr. Mittal said,
The plain old telephone service, better known as fixed line telephony, has become the bedrock for broadband telephony and serves as the basic and vital platform for any knowledge society. Almost all the internet and broadband applications for the private sector, government and society-government interface are principally run on fixed line telephony across the world.Fixed line in itself needs support, and therefore, it should be entitled to access USO funds rather than contributing to the USO fund itself.
The fixed line segment pays licence fee of 6-10 per cent and a service tax of 12.36 per cent, which the government can certainly "take away". It also contributes 5 per cent towards the Universal Service Obligation [USO] Fund.
Hopefully the Government will wake up and provide some incentives for higher broadband penetration soon.