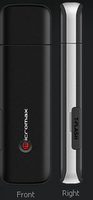 The battle for Wireless broadband intensified as BSNL now has a competitor – Reliance. We review the BSNL 3G USB interface DataCards for HSDPA [a 3G service]. Kindly note that 3G calling and Voice services has been withdrawn in certain circles until the security equipments are deployed. 3G / EVDO broadband / data services is not related to the same issue.
The picture on your left is the DataCard that you will plug into your system to access 3G broadband. Ideal Data transfer limits using this card are 3.6 Mbps Download and 384 Kbps Upload. The data card supports Windows 2000/XP/Vista and also Mac but not Linux. Additional support for VAS such as in-built phone book for contacts management as well as SMS facilities including Group SMS.
BSNL 3G broadband services is currently available in 11 cities and will cost you Rs 3,000 for Unlimited Plan.
Update:
The cost of MMX 300G DataCard is INR 3801.00.