Even before broadband can be deployed using the spectrum earmarked specifically for that purpose, five to six companies will be wireless-broadband-capable in each circle using 3G. If operators gun for BWA in circles where they have not won 3G, it will
be most likely to launch broadband on Wimax. The problems with this approach are that – Wimax favours 2.5GHz more than the auctioned 2.3GHz spectrum, and roadmap, ecosystem and international customer base are not strengthening; this would not really prevent high-ARPU subscribers from defecting to 3G operators, especially after MNP, since subscribers may choose to take handset and data card services from different service providers.
The following chart shows the future 5 or 6 3G Wireless Broadband Service Providers in each circle in India.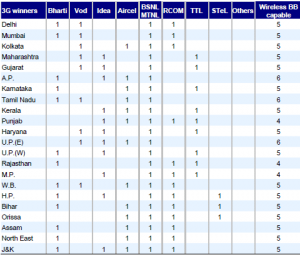 Will operators having 3G opt for take LTE Route in circles where they win BWA ?
Analysts say it would be better to use TD-LTE in combination with 3G for capacity enhancement for three years. By then, in all probability, this 3G spectrum would have become a bottleneck in metros and major cities. Operators Not getting BWA here would mean that if LTE progresses well, these high-ARPU customers would retain their voice numbers, but spend on competitors' data products.