Microsoft headed by a Non Technical and Non Product Savvy CEO, Steve Ballmer has reason to worry when Apple pipped Microsoft as the World's Largest Tech company in terms of Market Cap [an indication of future growth prospects].
Microsoft under David Cuttler developed one of the best Digital Platforms, the Windows Operating Systems for the PC environment. Together with the Visual Studio development tools, the ecosystem was very well placed. However, the company driven by a CEO with lack of vision with frequent display of his short temperedness by tossing chairs at Sr. Software Architects, locked in a ego clash for Search market lost his way and the empire is slowly crumbling on its own weight.
As consumers shifted from the bulky Laptops and Tablet PCs to Smartphones and sleek devices like iPad, Steve's leadership failed to spot the opportunity and is on a losing streak ever since. Data released by Gartner suggests that Microsoft's share of Windows OS is down from a whopping 95% to just 70%.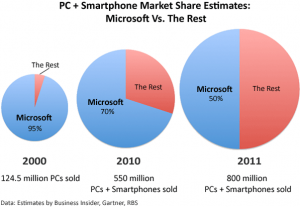 With the launch of Android OS for the PC / Laptop and Converged Devices this Fall, Ballmer has to spend sleepless nights with Passionate Developers and Product Managers or just step down and pave way for the last few innovators at Microsoft to arrest the company's downfall and smoothly transit from the point of inflection it is currently standing at.