Google's assault on Microsoft has intensified with a Blanket Ban on Windows Operating System across Google's Office globally and today a massive Ad Campaign on how Small and Medium Enterprises can save by switching to Google Apps from Microsoft Office.
How a Small Business With 50 Employees can save $20,168 / Year by Switching to Google Apps?
Google Apps costs only $50 / user / year
Employees can be 2.8 times more productive
Small Business Could Add 1,225 GB of E-mail storage enough for 3 mn e-mails
Spam Control With Google Apps is far better than Microsoft Exchange server and thus all the 50 employees together can save 1,390 hours which otherwise would be dealt for dealing spam
Employees can communicate 36% more with integrated unified communications system that comprises of IM, Voice and Video Chat
Save 50 Hours with Automatic Updates
Finally, think of 99.9% uptime making your business truly electronic and global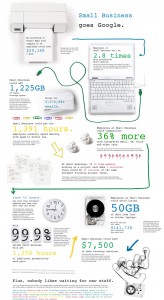 Check out Go Google for more details.