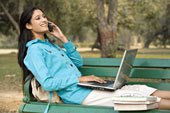 Time and Again, we have heard your voice that BSNL 3G service is expensive and we agree that it needs to be made more affordable. Until then, users seeking mobility in broadband to work from School or Home or SOHO, can rely on BSNL EVDO or Reliance NetConnect Broadband+ or Tata Photon+.
We recommend Reliance NetConnect Broadband+ or Tata Photon+ for users of Mumbai and Delhi or anybody who frequently visit those cities since you can avail of roaming Boradband access [Kindly confirm the Billing while roaming].
BSNL EVDO: BSNL's EVDO is a great Wireless broadband Plan for users seeking mobility. The deal is great, especially in South India – Having taken the connection in Bangalore, we enjoy South India roaming and the cost is just Rs 650 [Unlimited Access, Speed varies by Signal Strength. Never got the advertised 1 Mbps, but 384Kbps to 768 Kbps is not bad at all].
Access – Access methodology of EVDO based broadband is using a USB stick / antenna. If you wish to purchase the USB stick it costs Rs 4,000 + taxes or if you lease it, it costs Rs 200 / month. [We recommend to lease it] You can install it on any Operating System. BSNL EVDO Drivers for Windows 2K SP4, XP, Vista or even Linux are available.
BSNL is using CDMA 1X Technology for providing EVDO based broadband services and is continuously expanding its BTS'.