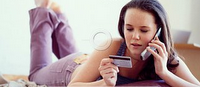 Reliance Wireless President, Mahesh Prasad has revealed the magic number sought after by all the Telecom Analysts in India – The Average Call Duration – 58 Seconds.
Now this means Pay Per Second Billing will not be suitable as customer ends up paying Rs 0.60 / call instead of Rs 0.50 or lower tariffs available in the Indian market. Thus the one paisa per second tariff proves to be expensive compared to Simple Reliance or Other Lower Tariffs.
Their are very few customers who talk less than 25 seconds to whom this 1 Paisa / Second Billing is suitable. However, you've got to admire the product manager at Tata DoCoMo who designed this as it became the platform for the entire Telecom industry within 3 months and has helped Tata DoCoMo gain small market share, mainly from rival Bharti Airtel.