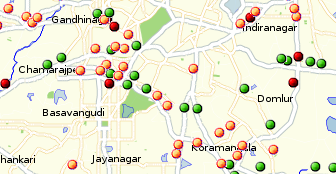 Polluted and Dirty Bangalore which adds more than 1,000 vehicles a day is now having Live Traffic info online and also on Mobile.
To your left you are seeing the Live Map of traffic conditions. Color Code.
Green – Clear
Orange – Slow
Red – Delay.
The project [BTIS] is funded by the State Government with network support from Bharti Airtel, which is collecting data from thousands of Cameras and Sensors. The information is compiled at a central database which you can query using Airtel's 54321 SMS service [I am not sure if this SMS service is FREE]
However, you need to know short codes to query the database which is a tedious process if you don't have GPRS / WAP enabled. For example, we sent an SMS to 54321 with body NGBR HAL. The distance between Nagarbhavi and HAL is 21.3 Km and estimated travel time with live traffic conditions is 62 minutes was the reply. BTIS also provides carpool information.
Also read how Internet and SMS help Car realize carpooling on Demand in Mumbai.