Microsoft and Skype have asked the TRAI to remove all the barriers for use of VoIP technology in India. Currently, Indian Internet users can make VoIP calls between PC and PC or PC to a phone outside India but not to a phone [Fixed Line or Mobile] within India.
In a letter submitted to TRAI, they have said
Any revenue loss would be more than compensated for by revenues generated by overall economic gains, taxes on new broadband and e-commerce services, efficiency savings and by e-enabling government departments.
Hopefully, VoIP all barriers will be lifted soon.
IP Radio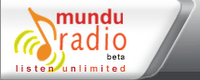 Mundu Radio, a GPRS internet radio for your mobile went live with its Beta. Mundu Radio is a product of GeoDesic Information Systems. With Mundu Radio you can listen to all your favorite Internet fm stations. It is available for download on their website and is compatible with Symbian and Plam OS.
GeoDesic claims that the QoS is better than MP3 and currently is available for FREE much in line with any other Silicon Valley hi-tech products and the company has kept all options open to charge later or go for an Ad based model.