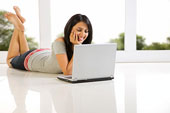 Mobile broadband over EVDO / CDMA 1.x platform is gaining lot of traction for wireless broadband services, according to industry experts.
BSNL EVDO broadband was the first one to launch service followed by Reliance NetConnect+ and Tata Photon+. The last entrant in this space is MTS' MBlaze broadband. They operate by leveraging existing infrastructure and spectrum.
Reliance Communication's NetConnect+ has seen promising traction with data card user base
rising from 50,000 in April 2009 to 500, 000 in October 2009. Collectively EVDO broadband service providers have been adding over 120,000 customers MoM and the customer base has reached almost 800,000 at the end of October-2009.
60% of EVDO mobile broadband customers are SMEs
40% have connected under the residential category
Non-availability of UNLIMITED data plans in EVDO services is hindering most residential customers and TRAI lack the will to interfere when it has all all the powers to do so.