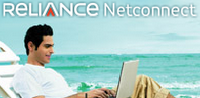 Reliance Communications in association with hardware vendors – Acer, HCL and Lenovo is offering a FREE Notebook / Laptop with Reliance Wireless Internet / NetConnect.
RCom is the first Telco to make such an offer in India following into the footsteps of Carphone Warehouse of the UK and Orange in Slovakia.
The Deal: Customer will have to subscribe to a minimum 24 months contract for Reliance Netconnect Wireless Internet access at Rs 1,500 / Month + taxes which yields to Rs 1,684 / Month. You get to access unlimited Internet. This is a good offer for customers who want a Laptop and Internet for lighter use. More details will be updated here.
Why Lighter Use, when I am getting Unlimited Data Transfer ? Because, Reliance Internet is offered on 1xRTT technology which is kindda old and in our hands-on testing experience, we found that the data transfer speed was around 56 Kbps [We are used to atleast 512Kbps broadband] This is not just the fate of Reliance Netconnect but the same holds true for Tata Indicom Plug2Surf and Bharti Airtel Wireless Internet.
We would like to hear your views and experience about the Reliance Laptop + Wireless Internet.