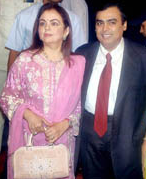 Celebrating his 50th Birthday today with the King of Bollywood, Reliance Retail Chairman, Mukesh Ambani announced e-commerce plans. We all know when Mukesh says something he is damn serious about it.
Reliance Retail plans to launch an e-commerce portal and setup delivery points in the city to Pick-Up or Deliver goods. They expect at least 6% of the sales to happen via their website when launched. The e-commerce business will thrive on a two-pronged strategy, B2B as well as B2C. It will also help the company strengthen its logistics network
However, their are a few issues in the B2C this model. Credit Card in India is poorly penetrated and Reliance Retail plans to launch a Credit Card well designed for the Aam Adami.