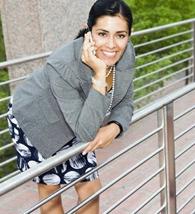 Bharti Airtel India CEO Sanjay Kapoor addressed Analysts covering the Company recently and said that Competitive Pressures persist in the 2G Voice Business from incumbents and new operators as well. Airtel has chalked out a Strategy to Combat and Stay ahead of the curve and here are some of the points highlighted by Mr. Kapoor.
Airtel continues to focus on revenue market share, and will continue to invest in maintaining and consolidating its leadership position and initial results of this strategy are encouraging.
Airtel is witnessing pressures on tariffs as well as channel commissions. Company has Circle-wise / Region-wise approach [You may have read how Airtel Fab Friday in Mumbai and Maharashtra is gaining traction] depending upon competition, customer profile and Airtel's leadership position.
Mr. Kapoor is of the view that High Spectrum Costs will drive consolidation and competition will be rational. All the 3 technologies will co-exist in India 2G, 3G and 4G as the company has to serve diverse base of customer needs and thus Airtel took giant steps to leap forward in the race acquiring Qualcomm 4G Licenses
The recent 3G tariff cuts were largely driven by irrational competitive forces, as well as to induce usage to boost volumes
Medium Term Growth will definitely come from Rural Subscribers especially the Youth
Airtel is surprised by the heavy demand for Data across 2G / 3G and 4G and the company has started upgrading its IP Network
Company determined to increase VLR – Visitor Location Registry Share and maintain RMS
Lets wait for clarity on the Telecom Spectrum Policy and Auctions as the connecting India revolution moves ahead.