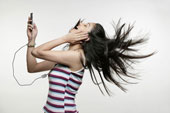 India added 8.22 mln mobile users in April, after overtaking US to become the world's second largest wireless market in India. Start-up spectrum in some various circles was also allocated to new Telecom operators who are starting to operations to sell-out after a while [Unitech and Videocon] Here is the break-up of market share of various cellular service providers [End of April-2008] in India and their ARPU / Month in INR,
Aircel 10.99 mln NA
Bharti Airtel 64.37 mln Rs 357
BPL 1.31 mln Rs 350-375
BSNL 36.68 mln Rs 244 [ARPU seems to be very low, not sure why, I'll get to the bottom of this]
Idea Cellular 25.04 mln Rs 283
MTNL 3.24 mln Rs 196
Reliance Comm [GSM+ CDMA] 47.45 mln Rs 317
Tata Indicom Teleservices 24.77 mln NA
Spice Telecom 4.36 mln Rs 314
Vodafone Essar 45.78 mln NA
The Telecom Minister recently said issues regarding 3G licenses will be sorted out and issued soon so that service providers can start service by Jan-09. This is the price we pay to live in democracy like India where Minister's have the ultimate authority discouraging engineers and scientists views.