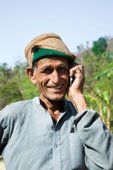 The Indian Mobile industry witnessed strong growth in Q1. Bharti Airtel continues to top the chart. While the April-June quarter typically experiences slower net additions after a year-end spurt, Q1 additions this time around have been fairly strong. No new licensees have started their operations yet.
Refining the numbers we find that Circle C ARPUs continue to stay ahead of A & B circles. This comes as a surprise since in the last year's analysis – as penetration deepens, we expected the C circle ARPUs to drop faster, which has not happened. Low penetration of fixed line phones can be attributed as the reason for higher ARPU in mobile segment.
Many analysts had concerns that the new subscribers coming on the network from C circles are of low quality with limited Outgoing usage and hence will impact MoU/ARPU. However, this doesn't seem to be TRUE even with increased rural and semi-urban penetration.
Lastly, with drop in call rates, SMS usage is tapering off.