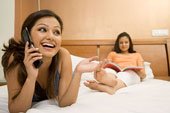 Indian GSM Wireless operators added 6.32m subs in June 2008, up from 6.28m subs in May 2008 (excluding RCOM GSM).
Bharti Airtel continues to top the chart in net additions with 2.56m new subscribers followed by Vodafone India which added 1.73m. Idea Cellular added 1.05m customers [does not include Spice communications].
BSNL saw a big slowdown in subscriber additions with mere 0.37m new additions. Aircel added 0.43m. At the end of June-08, India had 212.14m GSM mobile subscribers.
Subscriber numbers of various GSM cellular service providers in India [June-08],
Bharti Airtel – 69.38m
Vodafone India – 49.20m
BSNL – 37.36m
Idea Cellular – 27.19m
Aircel-11.92m
Reliance GSM – 7.71m [May-08]
Spice – 4.55m
MTNL – 3.44m
Will the net additions in mobile space slowdown with rising inflation and slowing Indian economy ?