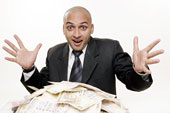 The India Mobile Value Added Services market is going pretty strongly. Here is how the investment is being made into the sector by Venture Capitalists and private Equity funds.
Mauj Telecom $ 10 mn by West Bridge Capital partners and Sequoia Capital
Nazara Terchnologies $ 1.5 mn by West Bridge
Bubble Motion $ 10 mn by Sequoia Capital India
Paymate $ 5 mn by Kleiner and Sherpalo
IMI Mobile $ 10 mn by Pequot Ventures
Indiagames $ 15 mn by UTV Software
mGinger $2mn by Draper Fisher Jurvetson and NEA-IndoUS Ventures
Enable M undisclosed sum by Salora Group
One97 $ 8-10 mn by SAIF Partners & Silicon Valley bank
Obopay $20 mn by Essar Communications Holdings, Promethean
India, Richmond mgmt, Others
Sai Advantium $20 mn by MPM Capital
On Mobile $ 27.8 mn by Deutsche bank, Goldman Sachs and Polygon
Investment partners. The company has also raised money in an IPO on Dalal Street.
Please feel free to add the ones we have missed.