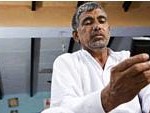 As the Telecom Operators established Mobile Phone as the most widely used e-platform in India, the RBI realized it soon that it can be used for daily banking transaction anywhere within India. Over the past 24 months, RBI, Banks and Telecom Companies have met to form the rules of this Game and the roll out has began paving way for Mobile Payments across anywhere in India.
Today we'll look into the business model of Mobile Payment Systems of Eko Business / Banking Correspondent. Eko operates via super-Customer Service Points (SCSPs) and Customer Service Points (CSPs) which are akin to wholesalers and retailers in the traditional FMCG distribution set-up. Around 100 CSPs report to one SCSP. When SCSP receives Cash, he transfers money to the CSP which in turn will use this money to transact with the end user / consumer.
Eko as a correspondent keeps track of all the CSPs, SCSPs and the end consumers. The end consumer with limited KYC documentation pays Eko Rs100 for an account opening and 3% of the value for remittances and every deposit and withdrawal also attracts a charge (`1-2 per transaction). Eko offers 80% of the fees collected to the distribution channel. The ROIs for SCSP and CSP are pegged to be between 20-25%.
Eko has joined hands with ICICI Bank and SBI. It already has 110,000 customers and ~500 signing up each day, Eko processes around INR 100 mn worth of transactions daily. Mot of its current customers are migrant labours in Delhi NCR region remitting payments back home to Bihar and Uttar Pradesh.
Advantages of Mobile / e-Cash:The biggest saving is for the RBI as it can cut its note printing expenditure by a whopping Rs 2,000 Cr annually. This e-cash / mobile pay market is expected to be Rs 2 Lakh Crore / Rs 2 Trillion.