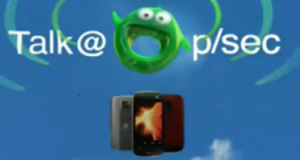 Videocon Mobile launched advertising campaign promoting its zero paisa/sec scheme. Though Talk@Zero p/sec is a great tagline, it is just another scheme that bundles free call minutes with mobile handsets.
Details of Talk@Zero p/sec Offer:
Customer gets Videocon prepaid SIM at no charge on purchase of Videocon handset. Depending on the model of the handset, customer gets 10-30 minutes free local outgoing to any network for 6-12 months; unutilised minutes will be forfeited daily. Free talk time attached to SIM card bundled with a specific handset will work only in that handset.
Videocon Mobile's scheme is aggressive compared to other schemes available in the market, but we believe zero paisa/sec scheme will not become industry standard (while 1paisa/sec gained immediate popularity) since – Videocon mobile business (both service and handset) are in start-up phase and leveraging value-chain benefit to gain market share, scheme is not sustainable for Videocon in the long run, as service becomes cost center without off-setting profits from handset due to intense competition in handset market, and finally offer is not unique, as seen below, Tata Docomo bundles with Samsung handsets.
Other Similar Offers in Indian Market are as follows,
Aircel offers 1,800 local seconds per month free for 6 months with purchase of Nokia handsets.
Bharti Airtel offers 2GB/month for up to 2 months with Nokia handsets. Offer is targeted to develop smartphone ecosystem by inducing data usage trial.
Tata Docomo offers free lifetime validity prepaid SIM with Nokia handsets, and 50 minutes on-net local calls/month free for 6 months with Samsung handsets.