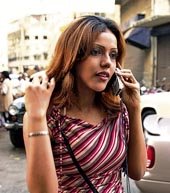 Just when Yahoo's new CEO Carol has asked its company to look for growth in the Asian region, Microsoft India has made its move in the Indian Mobile space despite the layoffs and cost cutting in Redmond. The company just a while ago announced that it has bought 20% stake in SMS 2.0 enabler – Affle.
Microsoft's backing will help Affle expand its reach overseas, especially in the western market. Additionally, Microsoft is on the lookout for BUYING out an Indian Mobile Value Added Service Provider.
Google has several popular products in the Indian Mobile Space – SMS Channels, Search by SMS, Google Latitude etc. Yahoo has introduced SMS backup for mobile customers in India, however hasn't gained much traction.
Well with this investment, it is certain that the Big 3 will fight it out in the Indian mobile space to gain as many customers as possible as India steps into 3G in the next 12 months 🙂