Finally, the product managers at Motorola have realized the needs of an Indian consumer – Low cost Mobile with FM. FM is very popular in India and with the entry of Reliance BIG FM in the market, listeners have been enjoying Local, National and International music. This will get the Aaam Addmi to Rock'n'Roll wherever he is 🙂
Motorola's executive vice-president and chief technology officer Padmasree Warrior said,
This is a mass market product. It will have basic phone features and FM radio. Motorola has been working on developing and launching sub-$40 handsets specifically targeted at developing markets including India. These handsets are meant to give us volumes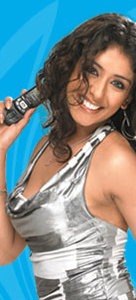 Earlier this month during Motorola's CTO, Warrior's visit to India we had reported about Motorola's plan to launch low cost mobile phone in India. Motorola has branded the low cost phone as Motofone and will be launched in India in the couple of days.
Both GSM and CDMA versions of the phone are available and is modeled on the basis of Moto Razr, just 9MM thick. Motofone has introduced a fantastic feature – Voice Prompt localized in several Indian languages English, Hindi, Tamil, Punjabi, Telugu and Kannada. Battery talk time is 300 minutes.
The GSM version of Motofone phone will be sold around Rs1,600 in a bundled offering with Bharti Airtel Ltd, Idea Cellular Ltd and BSNL.