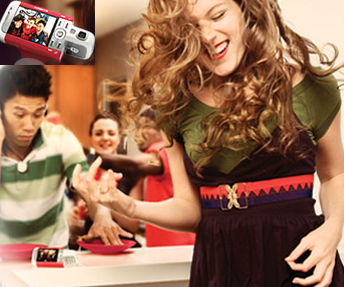 Soon Music Lovers in India, really especially the Trendy woman – Shuffle your beats with dedicated keys. Enjoy your music in crystal clear Hi-Fi sound. Better yet, play it loud through built-in stereo loudspeakers. Crank it up further with a 5-band equalizer and bass booster. Now amplify your style with Nokia XpressMusic 5700
Phone. It is slightly thicker than the rest at 17.5 mm. The phone is powered by It is a GSM Edge 3G compatible Quadband Symbian Series 60 OS. You can Twist to camera mode, Twist to music mode, Twist to video call mode and Twist to video view mode.
This phone is capable of playing MP3, AAC, AAC+, eAAC+, WMA formats and has an option for expandable memory for upto 2GB. Combo memory with 128 MB flash and 64 MB RAM.
It also has 2 mega pixel camera with 4x digital zoom. It also supports MMS, E-mail, Text messaging / instant messaging with SMS reader. It supports both Bluetooth and Infrared. Wi-Fi is absent, which would have been a cool feature.
Nokia 5700 Music XPress is expected to cost Rs 20,000 in retail stores in India.