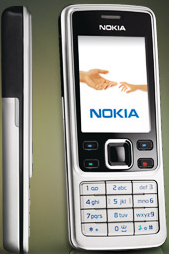 Looks like Nokia is determined to challenge the Moto Razr's slim and sexy looks. Nokia will be releasing the Nokia 6300 in Q1-2007 in India.
The Nokia 6300 is a GSM/EDGE (900/1800/1900 MHz; 850/1800/1900 MHz) triband phone. It is 11.7 mm thick, slightly thicker than Motofone and its clones which are mere 9mm. Nokia 6300 has a 2 inch 240 x 320 pixels (TFT) QVGA with up to 16.7 million true colors
Imaging : 2 megapixel camera with 8x digital zoom. Awesome.
Multimedia: Video recorder and player. Music player supporting MP3, MP4, AAC, AAC+, eAAC+, H.263, H.264. FM stereo radio with Visual Radio. Streaming video (3GPP). DRM release 2.0
MMS: OMA MMS 1.2 for creating, receiving, editing and sending multimedia messages (messages up to 300 KB) Push to talk Instant messaging. Nokia Xpress Audio Messaging (AMS) – to send voice or sound clips via MMS
Memory: 7.8 MB internal user memory. Expandable memory: microSD card up to 2 GB
Connectivity: Bluetooth version 2.0 with Enhanced Data Rate (includes SIM access and Headset and Handsfree profiles) and stereo support for headsets.
Battery talk time is expected to last for 3.5 hours. And guess the price tag ? Maybe around Rs15,000 [$300] ?
Tags: Mobile India, Nokia, Nokia 6300, Nokia Motorola