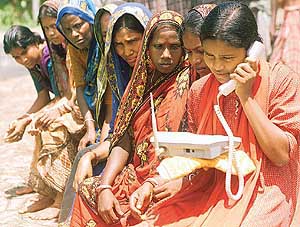 The Government of India has done a commendable job by inserting the Universal Service Obligation [USO] clause in the National Telecom Policy of 1994.
Under the USO clause, telcos need to extend services to remote villages[or fund the project] such that they are not left behind in the Telecom revolution of India.
Under USO 250,000 villages will be covered by mobile services. Backward state, Uttar Pradesh is the biggest beneficiary with 38,000 villages that will 'Hello World' on Mobile Phones, followed by 26,000 villages in Madhya Pradesh, 23,000 in Bihar [The lawless and most unsafe state of India] and 17,600 villages in Maharashtra.
The DoT has shortlisted 21 companies to setup the necessary infrastructure which will involve erecting 10,000 towers across villages from the USO fund. I am wondering if the DoT is aware of the Bhutan's Rural Telecom push which used WiMax technology and is far more economical than the cheapest telecom market in the world 🙂
Tags: Telecom India, Mobile India, Wimax, Wimax Mobile