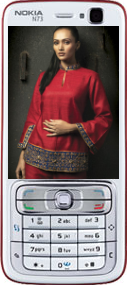 Nokia, India's number one mobile handset company in association with state owned TV network, Doordarshan will launch Mobile TV in Jan-07. Nokia will power this service using its DVB-H broadcast mobile TV open standard-based technology.
During the pilot project, Doordarshan will test the reception quality, coverage and explore the options of supporting different service schemes such as advertising and interactive services.
How is Mobile TV broadcast different from 3G streaming already available on platforms like Planet Hutch ?
Mobile TV works by receiving a digital TV broadcast signal optimized for mobile devices from the air in much the same way as TVs at home do. While in case of streaming video service over 3G or GPRS each user gets a dedicated stream. In case of Mobile TV, one simultaneous TV broadcast stream can be received by any number of users.
Tags: Mobile India, Mobile TV, Mobile Video, Nokia