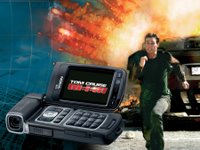 If Steve Jobs and Ballmer think that iPod and Zune are the entertainment devices, they are so wrong about it. Teens in this part of the world want a Triple Play (Mobile Phone, Digi Cam and Music) ready to go handheld device.
In a new marketing gimmick, Nokia Corp, has decided to pre-load on its Nokia N93 Mobile Phone, Hollywood's super hit movie, Mission Impossible 3. This coincides with MI3's DVD release on Oct-30th.
Nokia N93 has a QVGA 320*240 display. It also comes with a built-in 512MB memory card. The pre-loaded movie is streamed at 25 fps and has stereo quality audio. It's FREE when you pay for the N93 🙂
Check out the Nokia N Series Music edition set for Launch in November in India.
Technorati: Mobile India , Nokia N Series , Mobile Movies