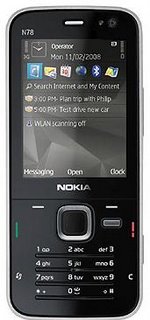 Nokia which is having half of its sales from emerging markets like India and China has launched a series on phones in the popular N Series in these markets. However, after the initial euphoria, Nokia hasn't lived up to people's expectations [which only went higher after they saw the coolest ever mobile phone – iPhone]
Review of the Nokia N78 Mobile Phone:
This is targeted at the youth as a convergence device. Yes it has capability for Wi-Fi and GPRS [Don't rely on GPRS. We tested with Airtel and Vodafone and both simply suck really badly in GPRS services.]
It is worth a laugh when Mr. Taneja of Nokia India said with this phone users can log on to Web 2.0 destinations like Facebook, but How ?
N78 is the slimmest of the N-Series devices. This phone is pre-loaded with Maps of 8 Indian cities and Points of Interests [ATMs, Banks, Restaurants, Hospitals etc] The screen is bit smaller than N73 [far smaller compared to iPhone] which simply makes it unfit for someone to use the Maps.
The only interesting feature we found on Nokia N78 was the "location tagger" which automatically tags location data to the picture, allowing users to save picture by date and by geographical co-ordinates.
Nokia N78 supports add on memory up to 8GB. Internal speakers sound quality is barely acceptable and has support for standard 3.5mm headphones. N78 didn't sync completely with the PC Suite software provided and don't ask about the hanging problem.
Before iPhone we thought Nokia phones are really cool and value for money, however, what is obvious now is Nokia lacks R&D and has been selling just a mash up of applications with different name and higher memory. Nokia N78 is priced at a whopping Rs 19,990 in Indian market while iPhone is expected to launch in the range of Rs 20,000 to Rs 22,000 making it a much better BUY than N78.
Nokia phones in Europe come with 24 months warranty while in India its just 12 months, we hate this discrimination by Nokia.