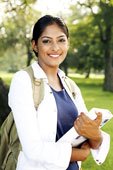 Social Networks in India like BharatStudent and MingleBox which started off to connect the Indian Youth have included the most sought after modules to attract more individuals to their platform – Education Information hence changing the theme of their portals to Education Infotainment from mere Entertainment and Social Connection.
Education – The Big Bucks Business:
Apart from the Government spending of $21bn in the XIth plan, many private colleges and universities have sprung up as India transforms itself into the knowledge capital of the world. In our view, with the booming private education market in India likely to be even more aggressive, for competitive reasons, in advertising to attract students, information portals such as Shiksha are positioning themselves to capture a growing portion of this spend in the coming years when budgets move online. Lets have a look ate few of the popular ones.
EducationTimes.Com
Part of the Times of India Group, the website leverages the group's education-related content in its various properties and mainly offers information on postsecondary education as well as for post-graduation (e.g. job search tips, executive education, etc.).
MingleBox:
Popular Social Network now offering FREE online tests for CET-K/COMEDK. Guidance for IIT-JEE, BITS and other related services.
BharatStudent:
Helping graduates look for higher education in India, US, UK and Australia. Comprehensive database of colleges and guidance and tutorials on necessary qualifying exams.
PagalGuy.com
Pagalguy.com is an education portal specifically targeting students attending and interested in attending business school in India.
National Network of Education:
Founded by Pragati Infosoft Private Ltd, the company already runs three very popular and useful portals. IndiaEducation, IndiaEduNews and ExamResults
StudyPlaces.Com
Aims to be a comprehensive resource center for students planning for postsecondary education (including study abroad), as well as entering the workforce. This portal was founded by Mr. Amitabh Nagpal, and is jointly funded by Kleiner Perkins Caufield and Byers (KPCB); Sherpalo Ventures and Info Edge (Info Edge invested US$1m for a minority stake)
Shiksha.Com
A comprehensive information portal for students for various aspects of their education needs, but mainly in postsecondary education and study abroad, to attract student traffic.
Currently, the revenue model is largely advertising-based in the form of brand ads and classified listings. However, going forward, they may turn out into paid services. An opportunity worth looking at is to develop fantastic content and port them as Paid Applications on these networks as well as FaceBook and Orkut 🙂